MultipleSupplements.com
MS-Mag Boost
Regular price
Sale price
$46.90 NZD
Unit price
per
Directions

Recommended daily dose:
1-4 capsules/day or as required or prescribed by your healthcare professional.
Start any new Dietary Supplement slowly.
One in the morning, anytime. Wash it down with Bfast or the same time as the Complex with an extra glass of water, if you can manage the extra water! Do one capsule/day for a week. Then increase to one in morning and one in evening for another week then two in the morning and one in evening for another week then two in morning and two in evening. The magnesium will soften your stools by increasing the dose gradually this should give you gut time to get used to the extra Magnesium in your diet.
Ingredients

Type / Amount
Magnesium (as Oxide) / 197 mg
Magnesium (as Orotate) / 8 mg
Magnesium (as Chelate) / 20 mg
Magnesium (as Phosphate) / 75 mg
Encapsulationg aids

Contains:
No Added: Gluten, dairy products, wheat, egg, sweeteners, preservatives.
Other ingredients: 100% vegetable capsule (cellulose and water), encapsulating aids.

Made in New Zealand from imported ingredients.
Precautions

Because of the potential for interactions, dietary supplements should not be taken with medication without first talking to an experienced healthcare provider. Not suitable for consumption by people under the age of 18.
Share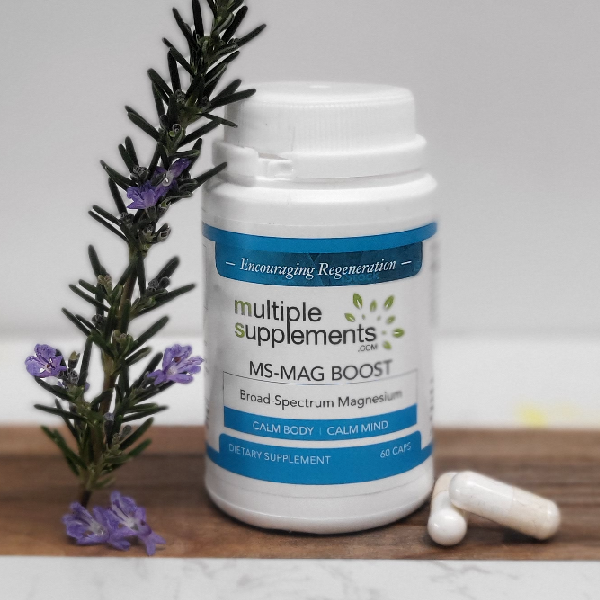 About

A broad-spectrum magnesium supplement from Multiplesupplements.com containing four salts of magnesium. Each capsule delivers 300mg of elemental magnesium. Far higher that any other product on the market today.

NOW 60 CAPSULES PER BOTTLE

Magnesium helps to reduce mood swings, ideal for maintaining a calm body and calm mind. Relieves symptoms of spasticity and stiffness, particularly in the lower extremities.

Order MS-Mag Boost from Multiplesupplements.com today. Just head to the Add to Cart button on this page.

Magnesium is shown to:
Help relax body and mind
Ease stress, anxiety, nervous tension, restlessness, irritability, and PMT symptoms
Soothe tense, cramped, or aching muscles (including period pain), and help with muscle twitches or tremors
Additional benefits of magnesium:
Supports bone health by assisting with Calcium absorption
Helps to maintain a healthy heart and blood pressure levels
Supports a healthy blood sugar level
Helps to relieve constipation
Tops up dietary Magnesium levels if you drink a lot of alcohol, coffee or tea; or eat a lot of processed, refined foods.
Which you shouldn't be doing anyway! 😉