MultipleSupplements.com
MS Relax Combo
Regular price
$139.90 NZD
Regular price
Sale price
$139.90 NZD
Unit price
per
Directions

Recommended dose:

MS_Biotin Complex
1-4 capsule/day - as required or prescribed by your healthcare professional.
Typically:
1-2 for 40-60kg
2-3 for 60-80kg
3-4 for +80kg

We recomend, as with any supplements, you start slow and find the right dose for you.
First week, one capsule first thing in the morning with a large glass of water.
second week, one capsule in the morning and one in the afternoon.
Third week, one first thing, one before lunch and one before dinner.
Fourth week, 4 spread out throughout the day.

As you increase the dose make note of your symptoms. Particularly Fatigue, Strength and spasticity. Over the week at a particular dose if you notice symptoms not improving then return to the provious dose.

MS-Mag Boost
1-4 capsules daily
Start slow. One capsule in morning with a glass of water for one week. Increase by one capsule weekly, up to a maximum of 4 capsules daily on until stools loosen.


Ingredients

MS-Biotin Complex:
Each capsule contains:

Thiamine (B1) 25 mg
Riboflavin (B2) 3 mg
Niacin (B3) 20 mg
Pantothenic acid (B5) 23 mg
Pyridoxine (B6) 8 mg
Biotin (B7,H) 75 mg
Inositol (Vitamin B8) 25 mg
Folic acid (B9) 50 mcg
Methylcobalamin (B12) 10 mcg
Ascorbic Acid (C) 215 mg
Choline Bitartrate 25 mg
Vitamin D3 cholecalciferol 1500 IU

Other ingredients; 100% DR vegetable gelatine capsule (cellulose, water), encapsulating aids.

CONTAINS NO egg, dairy, salt, sucrose, wheat, yeast, nuts, corn, gluten, casein, rice, soy, artificial colours, preservatives or fillers.

MS-Mag Boost
Type / Amount
Magnesium (as Oxide) / 197 mg
Magnesium (as Orotate) / 8 mg
Magnesium (as Chelate) / 20 mg
Magnesium (as Phosphate) / 75 mg
Encapsulationg aids

Contains:
No Added: Gluten, dairy products, wheat, egg, sweeteners, preservatives.
Other ingredients: 100% vegetable capsule (cellulose and water), encapsulating aids.

Made in New Zealand from imported ingredients.
Precautions

Because of the potential for interactions, dietary supplements should not be taken with medication without first talking to an experienced healthcare provider.

Feel free to mix and match any of these with dietary supplements you are already taking. Just be careful, some vitamins can be overdone more than others. Consult a healthcare professional if unsure of which supplements should be mixed.

Should be kept out of the reach of children as with all dietary supplements.
Share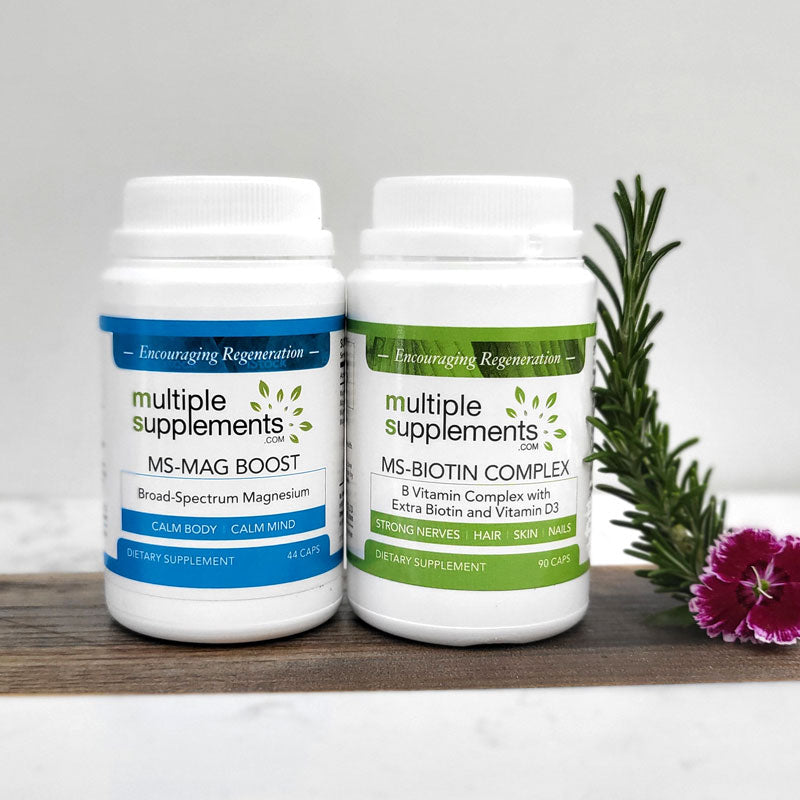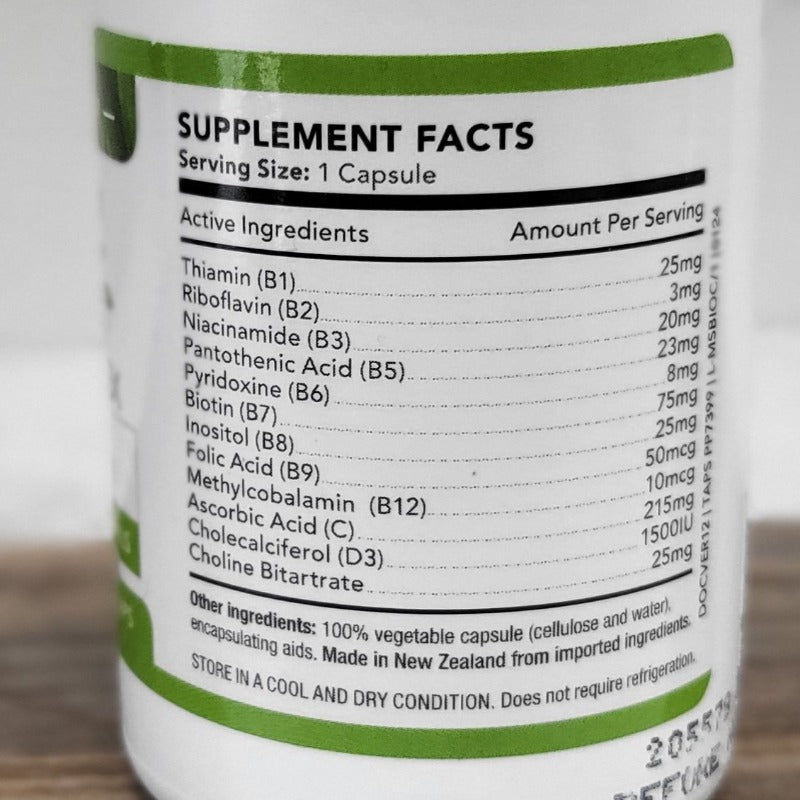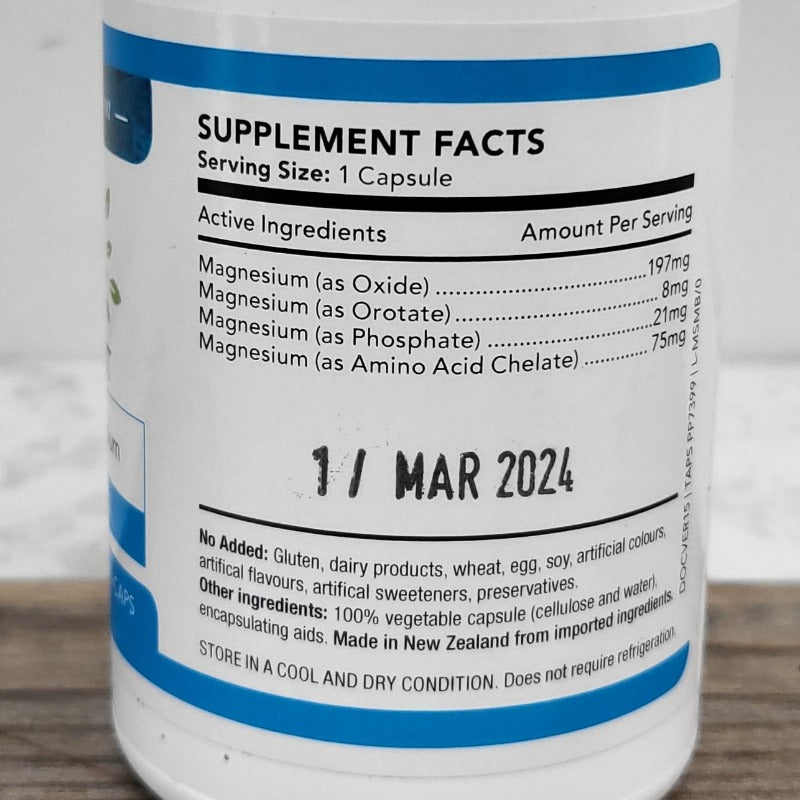 About

Many diets today are lacking in the micro-nutrients essential to maintaining a healthy body. Either for consuming intensively farmed produce which no longer carrries all the nutrients we need, or simply from a poor diet that lacks nutrition: WE HAVE TO SUPPLEMENT OR DIET TO MAINTAIN OUR HEALTH.

Our flagship product, MS-Biotin Complex is a multi-vitamin complex with 75mg d-(+)-biotin to help nerve growth and repair. It contains a comprehensive collection of B vitamins, vitamin D3, C, and other supplements to help maintain strong neural performance. This product has all your basic vitamin needs plus extra biotin for your MS.

As with all our Biotin products, the Biotin we use is greater than pharmaceutical Grade d-Biotin (d-(+)-biotin) which is the most biologically available form of Biotin. All our Biotin is supplied to us with a Certificate of Analysis (CoA) conforming to >99% Biologically active d-Biotin.

We are also now using Delayed-Release capsules to maximise the effectiveness of the nutrients in each capsule.

ACHTUNG: Deutsche Kunden. 1500 IE Vitamin D gelten in Deutschland als dortphutisch. Es kann daher nicht von Einzelpersonen importiert werden. Bitte kontaktieren Sie uns, um herauszufinden, wie Sie dieses Produkt in Deutschland herstellen können. mailen Sie uns: info@MultipleSupplements.com

MS-Mag Boost helps reduce cramping and spasticiy of the legs. Also encourages relaxation and better sleep. It is a broad-spectrum magnesium supplement from Multiplesupplements.com for people with Multiple Sclerosis, containing four salts of magnesium. Each capsule delivers 300mg of elemental magnesium. Far higher that any other product on the market today.

Magnesium helps to reduce mood swings, ideal for maintaining a calm body and calm mind. Thought to relieve symptoms of spasticity and stiffness associated with MS, particularly in the lower extremities.

Order MS-Mag Boost from Multiplesupplements.com today. Just head to the Add to Cart button on this page.

Magnesium is shown to help people with Multiple Sclerosis to:
Help relax body and mind
Ease stress, anxiety, nervous tension, restlessness, irritability, and PMT symptoms
Soothe tense, cramped, or aching muscles (including period pain), and help with muscle twitches or tremors
Additional benefits of magnesium: Supports bone health by assisting with Calcium absorption
Helps to maintain a healthy heart and blood pressure levels
Supports a healthy blood sugar level
Helps to relieve constipation
Tops up dietary Magnesium levels if you drink a lot of alcohol, coffee or tea; or eat a lot of processed, refined foods.
Which you shouldn't be doing anyway! 😉